BBQ Set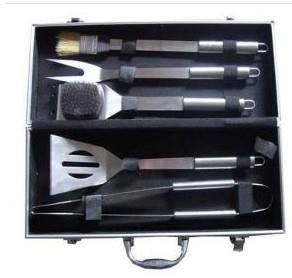 Product name : BBQ Set
Model No. : SGS022
Products Category: > Outdoors item

Item Description
:
Enjoy endless days of summer and beyond by firing up the grill and getting that block party started! Maverick, the experts on grilling tools and thermometers has put together the perfect companion for your backyard cookouts. Our BBQ tool set features tools made of stainless steel and durable rubber.
Material:Stainless Steel
Color:Red,White,Blue,Green,Black,and Assorted.
Imprint
:
Method
:
Silkscreen
Colors
:
1 color
Location
:
1 location



Packing Info

:

shipping net weight: 18.00KG
shipping gross weight: 20.00KG


Price(s):
| | | | | | |
| --- | --- | --- | --- | --- | --- |
| Quantity | 1000 | 2000 | 3000 | 5000 | 10000 |
| List Price | 18.70 | 18.51 | 17.93 | 16.80 | 15.58 |
| Price Code | T | T | T | T | T |
| Net Cost | 13.09 | 12.96 | 12.55 | 11.76 | 10.91 |
Send Inquiry :
Related Products :
Contact Us
Tel: (888) 661 4468
Fax: 18626102899
E-mail: info@sg-sourcing.com
Add: 江苏省苏州市人民路3188号万达写字楼18栋510